Welcome to FlashWebHost.com
FlashWebHost.com was founded in 2001 and is one of the oldest and most stable web hosting companies in the world. The secret to our long history is the loyalty of our satisfied customers. FlashWebHost.com is a leading provider of high performance, low cost web hosting solutions. We offer a diverse range of flexible products coupled with unrivalled customer care. We only host on reliable servers with an up time in excess of 95%. All of our accounts include instant online set up and access to industry standard control panel. Whatever your requirements, FlashWebHost has a solution tailored to your needs. We specialise in script hosting like php mysql hosting, WordPress blog hosting, Joomla etc... We distinguish ourselves by offering superior customer service Guarantee. You'll find the FlashWebHost.com team is always friendly, understandable and helpful.

STARTER PLAN
399
(18% GST Extra)
---
500 MB Disk Space
1 GB Bandwidth
10 Emails
ECONOMY PLAN
999
(18% GST Extra)
---
2 GB Disk Space
2 GB Bandwidth
15 Emails
ADVANCED PLAN
1799
(18% GST Extra)
---
10 GB Disk Space
20 GB Bandwidth
50 Emails
UNLIMITED PLAN
2999
(18% GST Extra)
---
UNLIMITED Space
UNLIMITED Bandwidth
UNLIMITED Emails
For your peace of mind we host your site on Intel(R) Xeon(R) CPU E3-1270 @ 3.5GHz server with 8 GB Registered ECC RAM, 1 TB GB SATA II HDD drive disks and full UPS backup. Our network provider uses over 15 fully redundant high-speed lines into different backbone providers. All this adds up to the best possible combination of speed, safety and reliability for your web site.
Take Control
We provide Control Panel for both Domain name and Web Space.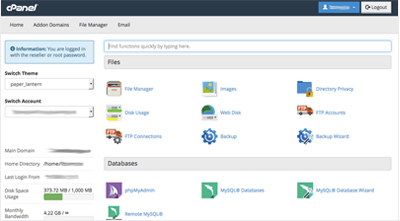 Web Space - we provide Cpanel 11 Control Panel for your web site. You can create or delete pop3 mail boxes, set email aliases, etc...
You can also change password, manage database through control panel. You can access your control pannel at http://www.yourdomain.com/cpanel/
---
Domain Name - We provide control panel for domain name. Logging into domain control panel, you can change Owner, Billing, Technical Contact information, Domain Name servers, Create Child name Servers.
You can manage any number of Domain names through the Control Panel.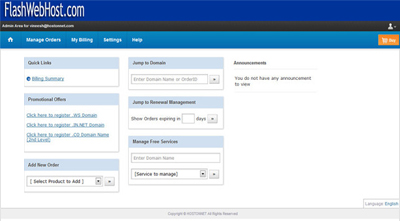 ---
Web Mail - You can read mails in your POP3 mail Box using the Web Based interface. You can check your mails anywhere in the world using Web Mail.